To us, tops are more than just spinning little things, and entertain young and old souls alike. Each spinning top is uniquely handcrafted, mainly out of beech wood with notable attention to detail and it is individually packed in a cotton bag accompanied by its base.
No matter of age, everybody can enjoy a few whirling rounds a day.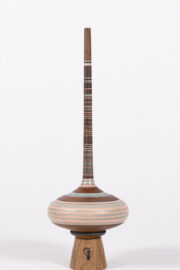 We're happy to present our new limited series of "sweet" & "spicy" spinning tops.
A marriage of our two latest spinning top collections.
Approximately 18 cm in height and 6.5 cm in diameter made of beech and walnut, hand crafted and hand painted on the lathe. The colouring is done with acrylic paint and ink, sealed in with a layer of lacquer to protect them.
Each spinning top we make is handcrafted with lots of love and attention to detail, therefore it is unique and cannot be replicated. It doesn't matter how old or young you are, you can still enjoy a few rounds of whirling a day!
Happy whirling!
Take a few minutes to watch how we do it
**FREE WORLDWIDE SHIPPING**