To us, tops are more than just spinning little things, and entertain young and old souls alike. Each spinning top is uniquely handcrafted, mainly out of beech wood with notable attention to detail and it is individually packed in a cotton bag accompanied by its base.
No matter of age, everybody can enjoy a few whirling rounds a day.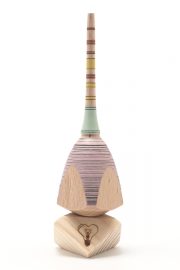 FREE WORLDWIDE SHIPPING
Approximately 2 cm diameter x 8 cm height
and made of Beech.
Each top is uniquely handcrafted with lots of love
and attention to detail. No matter of age, you can still
enjoy a few rounds of whirling a day!
Happy whirling!